Welcome To Oakford Help
Parent Portal Reports
You can set up, edit or delete report titles. These are the titles which will be used by the Assessment Administrator when uploading the reports.
Reports are always visible; they cannot be hidden before a certain date.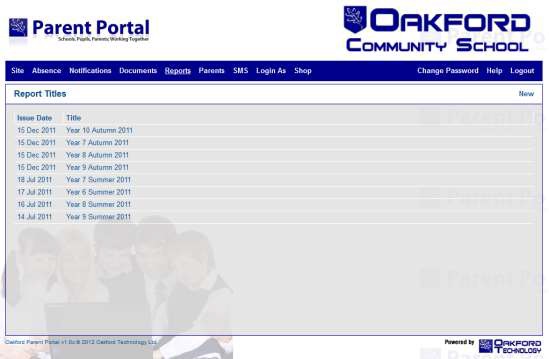 New Report Title
Click on New Report Title on the right hand side
Enter the date of the report - This must be the date that the report was written or issued. Reports are displayed to parents in reverse chronological order (latest first) depending on this date.
Enter the title of the report eg Year 10 Summer Term Report 2010
Save
Edit Report Title
Click on the Edit button at the far right
Make any changes necessary and Save
Delete a Report
Click on the Delete button at the far right
You can either delete titles which will delete all the reports with that title
Or
You can delete individual reports by ticking the required boxes.
Parents can also see reports for their children from other schools if these schools also use Parent Portal and have uploaded them.
You can view any report simply by clicking on it.
MAKE SURE that you have reports for each combination of issue date, report type and student year in SEPARATE FOLDERS
Upload
The reports must be in a zip file.
Click on Upload
Choose the report title from the drop down list
Browse to the folder containing the reports.
Make sure that this matches the title you have selected eg Year 7 Summer 2010.
Do not put reports for more than one year or one issue in the same folder, they must be kept separate otherwise reports for year 11 students may have a title such as Year 7!
Upload
The administrator who uploaded the reports will receive an email confirming that they have been uploaded successfully. This may take several minutes depending on how many reports are being uploaded.